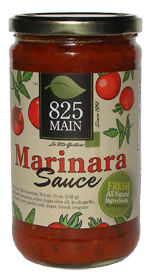 Before 1550, Italian pasta didn't come with red sauce. Instead it was prepared with olive oil and herbs. When Spain occupied the kingdom of Naples in the 16th century, they brought the tomato to popularity in the region. Marinara sauce was developed in Naples, Italy around 1550, nearly 200 years before the rest of Europe.
Marinara sauce means sailor type tomato sauce, and it is a basic, versatile tomato sauce. It is said that the sauce was originally developed by the Neapolitan wives of fishermen. After a long day out at sea the fishemen would come home hungry. The wives would quickly make a tomato sauce and toss in the catch of the day to flavor it. Who better to trust to make a delicious Marinara Sauce but none other than Napolitano's—aka Neapolitans!
Besides being a great pasta sauce, Marinara is also used in a variety of recipes. Having a jar of 825 Main Marinara Sauce in the cupboard is living la vita gustosa (living a tasty life!)
Try one of the following recipes using our versatile 825 MAIN Marinara sauce.