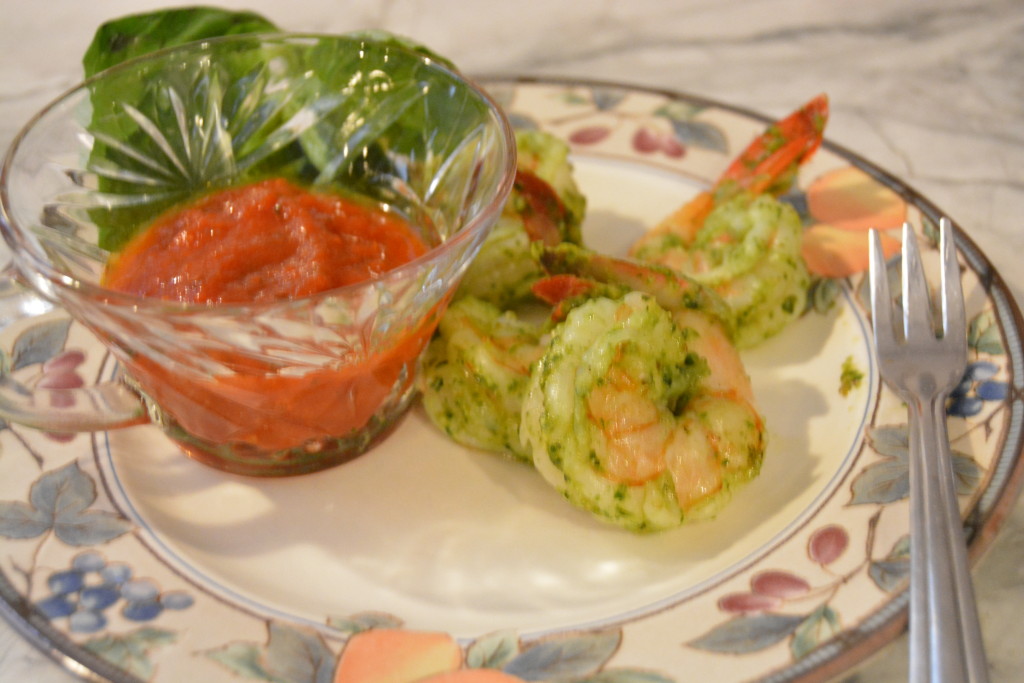 Ingredients:
Shrimp (size at your discretion), peeled (tails left on) and deveined
6 tablespoons extra virgin olive oil
1 cup basil leaves (There are numerous varieties of this spicy, aromatic herb, but sweet basil and bush basil are the most common. It is used mostly in dishes that contain tomatoes, and in salads, soups and on pizzas. Freshly chopped basil should be used whenever possible, as dried basil makes a poor substitute)
3 large garlic cloves, roughly chopped
1/4 teaspoon red pepper flakes (These devilishly hot flakes are used in traditional dishes like spaghetti aglio, olio e peperoncino and are found on almost every Italian table alongside the salt and pepper.)
1/2 teaspoon salt
1/4 cup grated Parmigiano Reggiano
1/4 cup pignoli or walnuts
825 MAIN Marinara Sauce for dipping
Procedures:
In a food processor or blender, combine the olive oil, basil, garlic, red pepper flakes, salt, Parmigiano-Reggiano and pignoli/walnuts. Process until the mixture is well blended. Reserve two tablespoons of the pesto in a bowl large enough to hold all of the shrimp and set aside. Pour the remaining pesto over the shrimp and let sit at room temperature for about 30 minutes to marinate.

If a grill is available all the better. If not just use a cast iron pan and cook shrimp until firm to the touch but do not overcook or they will be rubbery!