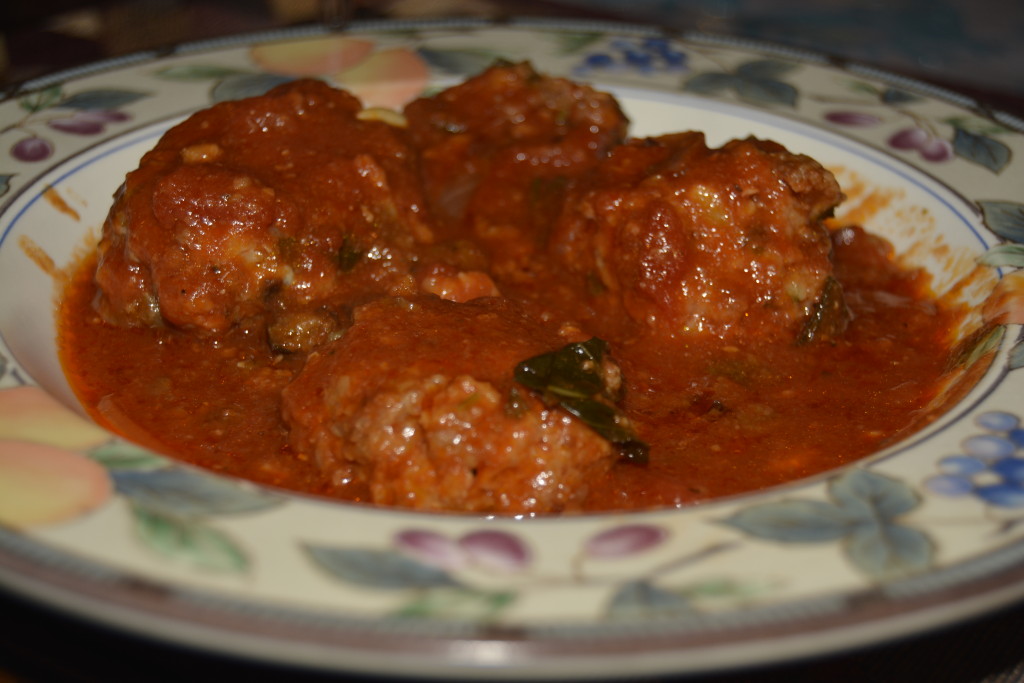 One of our most popular dishes that we served in the restaurant was "Spaghetti and Meatballs".  A big dish of spaghetti with 2 large meatballs doused with our delicious tomato sauce was a big seller.  Twice a week the chefs would be busy mixing the ground meat in a huge mixer and then rolling 500 meatballs at a time. People loved this dish! Spaghetti and meatballs is a standard Italian dish served at Italian restaurants all over the US.  Notice I said the US.  It is not a typical dish served in Italy. If you go to Italy, you won't find this dish on restaurant menus and if you do it's probably in a tourist spot to make the American tourist happy. Italy does have a version of meatballs called polpettes.  But they a very different.  They are usually eaten as a meal itself or in soups.  They are made with different meat from turkey to fish. And they are as small as marbles or as large as a golf ball.  Nothing like the baseball or softball sized American meatballs.
Polpettes are usually found more at the family table than on a restaurant menu. My grandmother made delicious meatballs that I looked forward to on Sunday dinner with the family. Pellegrino Artusi was a Florentine silk merchant who in his retirement travelled Italy and recorded recipes. He became famous when he published the first regional cookbook, The Science of Cooking and the Art of Eating Well for the home chef in 1891. When he talked about polpettes he said "Non crediate che io abbia la pretensione d'insegnarvi a far le polpette. Questo è un piatto che tutti lo sanno fare cominciando dal ciuco," which translates, "Don't think I'm pretentious enough to teach you how to make meatballs. This is a dish that everybody can make, starting with the donkey." So needless to say, Italian version of meatballs was an incredibly easy dish to make.
So, you may ask how did those large meatballs doused with tomato sauce over spaghetti evolve from polpettes.  It's the common story shared by all immigrants traveling to America.  They have to make do with ingredients they can find and afford.
Four million Italians (mostly from southern Italy) immigrated to America from 1880 to 1920. Because the majority of Italians that came were from Southern Italy their cuisine made a huge mark on the Italian/American culture.  When these poor immigrants came to the US they found that their income increased so that they were able to spend more money on food.  They ended up going from eating meat once a week to eating meat every day! And meat was consumed in much larger quantities.  So, the small moist polpettes made with 50% bread and 50% meat that they enjoyed in Italy changed to larger denser meatballs made with mostly beef.
I have to tell you as popular as the restaurant meatball was, I preferred my Nonna's meatballs.  There was a huge difference! Nonna's meatballs were soft and succulent while the restaurant meatballs were large and dense.   I think it's because Nonna made polpettes not the Italian/American meatball.  Here are a few secrets to get a truly soft succulent meatball.
Use 50% meat and 50% bread.
Use day old bread soaked in either water or milk.
Overcooking meat for too long gets dry and tough but the bread keeps it moist.
Do not over mix the meatball mixture. Overmixing make a denser meatball.
Now that I have shared the secret to making a perfect meatball the rest is easy.  And this is why Pellegrino Artusi said, "everybody can make, starting with the donkey." Not only am I going to share my Nonna's meatball recipe but I will also include a gluten free version, a vegan, and a vegetarian recipe. My Nonna's recipe includes raisins and pignoli ( very popular additions in Neapolitan cooking). You can omit them if not something that your family may like. The gluten free recipe I developed for my daughter who is on a gluten free diet.  They are also very good but not as light and airy as Nonna's.  The Gluten free meatballs are dense like the Italian/American version.  Also, some recipes may ask for bread crumbs instead of the soaked bread.  These meatballs will be denser. I also included a vegetarian meatball made with zucchini and a vegan meatball made with eggplant.  In Italy polpette are made with a variety of ingredients.  Enjoy tryin the different versions!
---
See our recipe for Nonna's Neapolitan Meatballs.