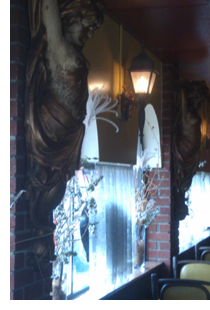 The 1920 Rialto Theatre  statues that have adorned the walls of  the Original Coppola's Restaurant for over 50 years have been donated back to the theatre from whence they started.
My family's journey started in 1961 when my father and his two brothers, along with my mother and her two sisters, having just arrived from the Naples region of Italy, opened the first Coppola's Restaurant in the old abandoned Rialto Theatre on Main Street in Poughkeepsie, NY. Immediately becoming a success, drawing in a menagerie of people from town folk to celebrities, Coppola's became the talk of the town.
The family eventually branched out to open other restaurants but Joe and Maria Coppola, my parents, stayed in Poughkeepsie. In 1979 Poughkeepsie Urban Renewal condemned the historic building at 273 Main Street forcing my parents to move to 825 Main Street. My parents enjoying their success in Arlington gave back to the community with annual Christmas parties for various children's homes. Fifty years in business Coppola's Restaurant received many awards for its fine Italian cuisine.
Jim and I are proud that we were able to hang on to that aura of family and thankfulness that my dad passed on to us when he died in 1994. Not only were we able to provide our customers with the same great food experiences that 6 Italian immigrants started 50 years ago but we also provided our customers with a canvas for memories! In turn our customers gave us a greater understanding and lasting memories of our heritage!
And now that we have closed our restaurant doors we are so grateful that our customers have opened their doors to their homes to introduce our 825 MAIN Marinara Sauce on the family dinner table.