Ingredients:
3-3/4 cups unbleached all-purpose flour
2/3 cup sugar
1/2 teaspoon salt
1/2 teaspoon active dry yeast
1/4 teaspoon lemon zest
1 teaspoon of dry vanilla
1/2 teaspoon of cinnamon
3 large eggs, room temperature
¼ cup lukewarm water
1/3 cup of orange juice
1 tablespoon warm honey
2 oz of Strega Liquor
11-1/2 tablespoons unsalted butter (10-1/2 tablespoons softened and cut into tablespoons; 1 tablespoon chilled)

Preparation:
1. In the bowl of the stand mixer, mix the flour, sugar, salt, yeast, lemon zest, vanilla and cinnamon at low speed.
2. In a small bowl, whisk together the eggs, 1/4 cup lukewarm water, 1/3 cup warm orange juice and honey.
3. While the mixer runs at low speed, pour the egg mixture into the dry ingredients. Increase speed to medium-low and continue mixing.
4. Add the softened butter, 1 tablespoon at a time, mixing completely before adding each. Increase the speed to medium-high and mix until the dough is smooth and elastic, about 8 minutes.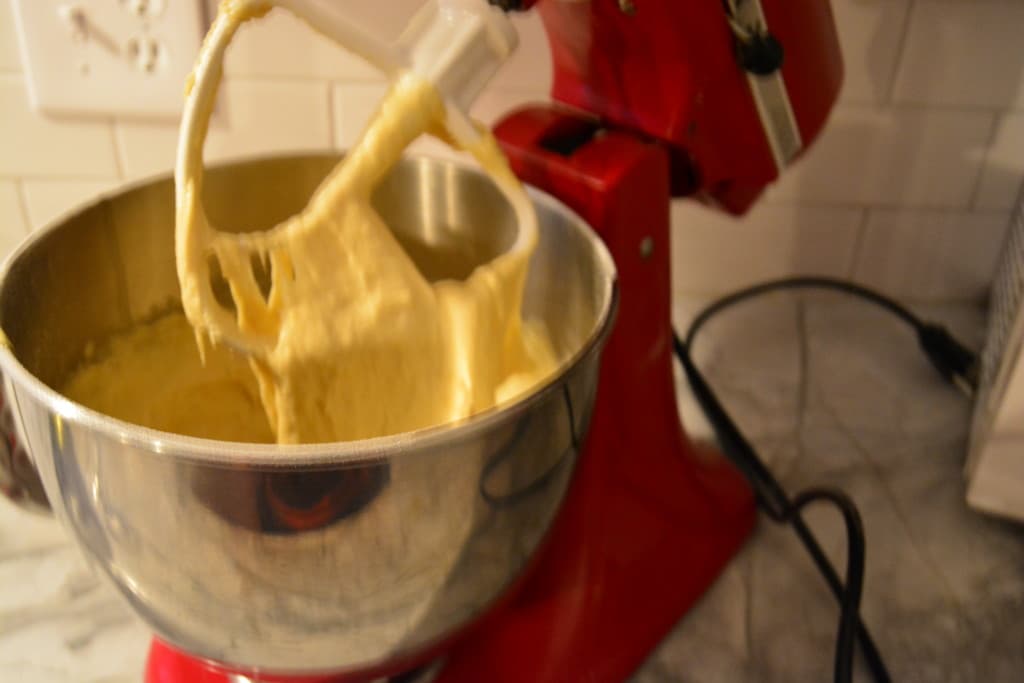 5. Place the dough in the large bowl, cover with plastic wrap, and let rise in a cold oven with the door closed for about 12 to 15 hours, until the dough is nearly tripled in volume.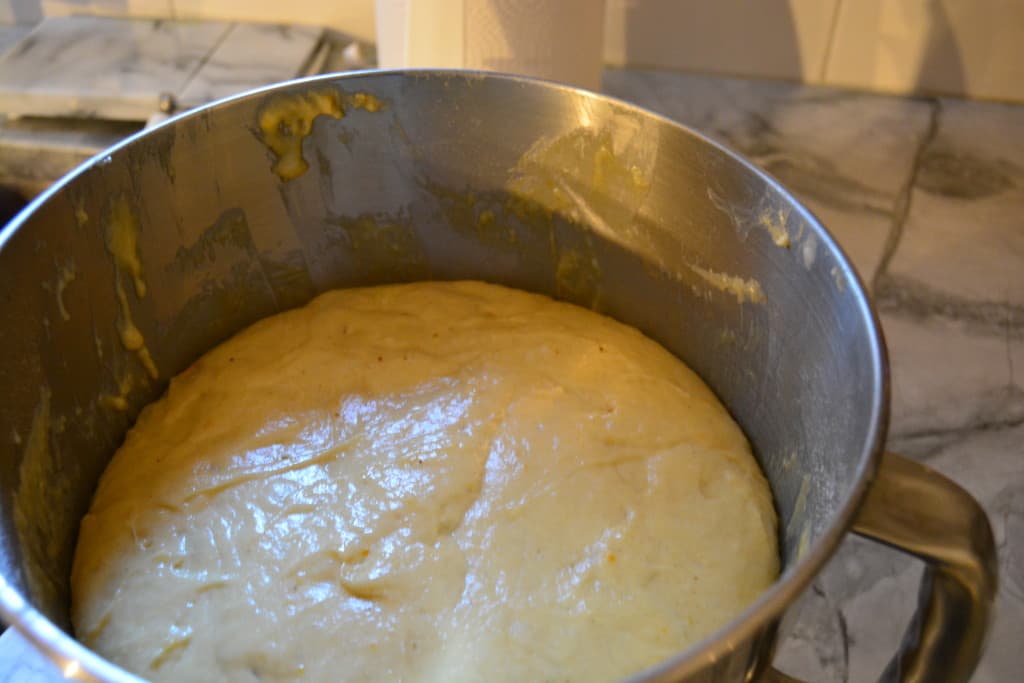 Rub your hands with flour, sprinkle the top of the dough lightly with some flour, and turn out onto a floured board. Sprinkle a little more flour onto the dough. Divide in half
6. Prepare 2 small pans with a high edge. Line with parchment paper.
7. Fold the edges of the dough into the center and place seam side down into the prepared pans. Cover with a damp tea towel (not terry cloth) and let rise in a draft-free spot at room temperature about 3 to 5 hours, until dough is just above the top of the mold.


8. Place the rack in the lower third (closer to the bottom than the middle) of the oven and preheat to 350 degrees. (If the dough is too high in the oven, the top will brown before the middle is cooked, resulting in a burned top crust.)
9. Use a serrated knife to score and X across the entire surface of the dough. Place 1/2 tablespoon chilled butter in the center of the X in each dough.
10. Bake in the preheated oven about 45 minutes to an hour, until a wooden skewer inserted in the center comes out slightly moist but not wet or doughy. To keep the Easter bread from getting too dark I put a piece of parchment over each loaf and then remove the last 15 minutes.
11. After its cooled you can frost with a meringue and sprinkles. Or you can make a glaze heating anisette with sugar and then glazing with sprinkles. Or plain with just some powdered sugar.

Buona Pasqua! Happy Easter!