This post is going to be a little different.  Different is that I will be living surreptitiously through my sister in this story.  Even though she lives thousands of miles away in a different time zone we keep in touch through all the current forms of communication.  Not only do we FaceTime on our iPhone, we email, use Skype,  WhatsApp and Snapchat.  Giovanna and her husband Davide have just recently moved to the island of Ischia, located in the Gulf of Naples.  Ischia is our mamma's native island.
If you have been following my blog, one of my passionate topics I talk about is about my mom and Ischia.  My mom, suffers from Alzheimers and can't remember anymore and because of that we try to remember for her. Growing up we took many trips with my parents to Ischia taking for granted everything mamma told us.  Both my sister and I remember bits of things that she has told us and we try to piece it all  together by researching.  We both read as much as we can about Ischia.  I even belong to many Facebook groups that have to do with Ischia.
Now, I will make sure to take full advantage of Giovanna living there.  I love taking virtual food tours of Ischia.  If I see something interesting, Giovanna will go investigate and/or taste it for me.  Not only is Giovanna having fun in Ischia imagining walking in our mom's shoes and remembering her life but I am too.
Giovanna lives in Ischia Ponte where her apartment faces Il Castello Aragonese (the small medieval  castle on a large volcanic rock connected by a bridge).   The apartment is in the same neighborhood mamma grew up in. This area is where the "Crimson Pirate" was filmed in 1951 starring Burt Lancaster and Eva Bartok.
On New Years Day Giovanna told me she was going for a walk to Cartaromana.  Cartaromana is a small beach about a 20 minute walk from Il Castello Aragonese.  It's a beautiful small beach complete with hot springs. Every time we visited Ischia we made sure to go there.  Even when I was older I brought my children there and they had the pleasure of experiencing this beach.  We always made sure to eat at Ristorante da Maria on the beach, which is still there.  My mom loved for all of us to enjoy the coniglio Ischitana, the famous rabbit recipe that Ischia is famous for.  There is nothing like Ischitana cuisine.
While Giovanna took her leisurely walk I asked her to take pictures along the way and share with me. And she did through snap chat!  I saved the pictures so you can all experience the walk to Cartaromana through Giovanna's camera lens and perhaps you will enjoy it as much as I did!
---
I came across Panettone di Ischia on Instagram.  I asked Giovanna about it.  She said she has been seeing them in all the bakery shops.  I decided to make one so I can feel like I am there.  So while I walk with Giovanna through Cartoromana I have been enjoying a piece of panetonne with a cup of espresso. Tell me if it doesn't look the same!  It was delicious.  Here's the recipe I used!

Panettone di Ischia by instagram voraciinsud
My version of Panettone di Ischia. Sip an espresso while munching on this panettone and let's pretend we are with Giovanna and Davide in Ischia!
---
Slow Rise Panettone
Adapted from Gourmet magazine, December 2008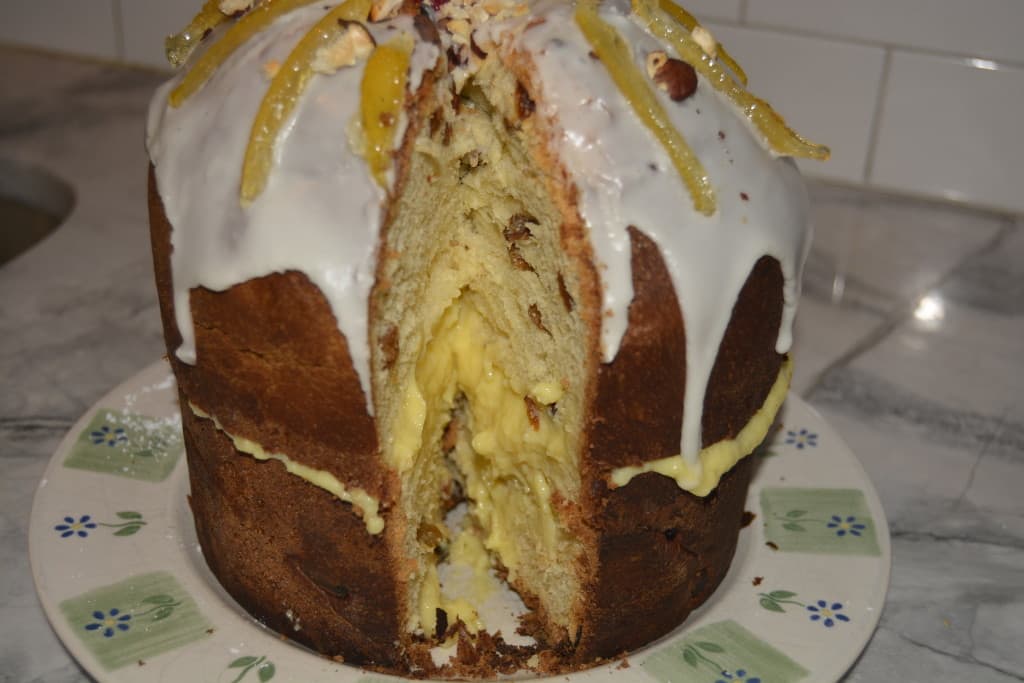 Ingredients
1 cup golden raisins
2 tablespoons gold rum
2 tablespoons hot water
3-3/4 cups unbleached all-purpose flour
2/3 cup sugar
1/2 teaspoon salt
1/2 teaspoon active dry yeast
1/4 teaspoon lemon zest
1/2 vanilla bean, split lengthwise
3 large eggs, room temperature
2/3 cup lukewarm water
1 tablespoon warm honey
12-1/2 tablespoons unsalted butter (10-1/2 tablespoons softened and cut into tablespoons; 1 tablespoon melted, 1 tablespoon chilled)
Preparation
In the small bowl, soak the raisins in the rum and 2 tablespoons hot water, covered with plastic wrap, for at least 8 hours. I also have forgotten to soak raisins overnight so I even have let them soak for just 30 minutes.
2. In the bowl of the stand mixer, mix the flour, sugar, salt, yeast, lemon zest, and vanilla bean at low speed.
3. In a small bowl, whisk together the eggs, 2/3 cup lukewarm water, and honey.
4. While the mixer runs at low speed, pour the egg mixture into the dry ingredients. Increase speed to medium-low and continue mixing.
5. Add the softened butter, 1 tablespoon at a time, mixing completely before adding each. Increase the speed to medium-high and mix until the dough is smooth and elastic, about 8 minutes.
6. Drain the raisins, and discard the liquid. Stir the raisins with the melted butter. Stir into the dough with a wooden spoon.
7. Place the dough in the large bowl, cover with plastic wrap, and let rise in a cold oven with the door closed for about 12 to 15 hours, until the dough is nearly tripled in volume.
8. Discard the vanilla bean. Rub your hands with flour, sprinkle the top of the dough lightly with some flour, and turn out onto a floured board. Sprinkle a little more flour onto the dough.
9. Flatten the dough and fold the edges into the center.
10.  Place seam side down into the panettone mold. Cover with a damp tea towel (not terry cloth) ( I forgot this step and used plastic wrap and it worked fine too) and let rise in a draft-free spot at room temperature about 3 to 5 hours, until dough is just above the top of the mold. If it doesn't rise just have patience and wait a little longer.  My oven has a proofer so I proofed it for 3 hours and then turned off oven and left in the oven for 6 hours longer.  It was perfect!
11. Place the rack in the lower third (closer to the bottom than the middle) of the oven and preheat to 375° (If the dough is too high in the oven, the top will brown before the middle is cooked, resulting in a burned top crust.)
12. Place the dough in the mold on a baking sheet. Use a serrated knife to score and X across the entire surface of the dough. Place 1 tablespoon chilled butter in the center of the X.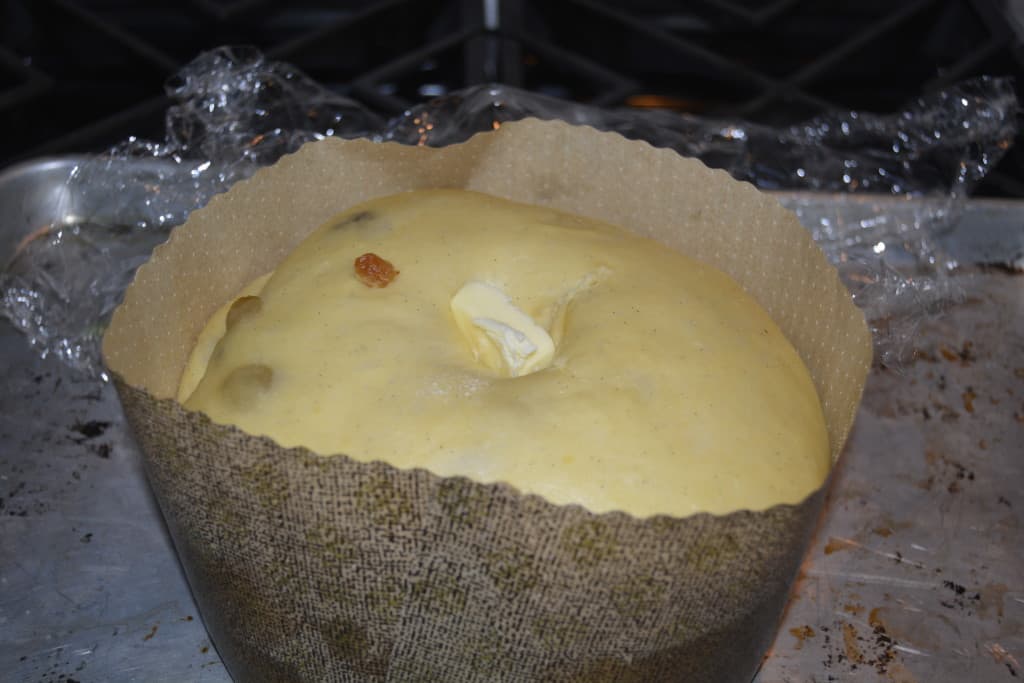 13. Bake in the preheated oven about 1 to 1-1/4 hours, until a wooden skewer inserted in the center comes out slightly moist but not wet or doughy. The panettone will be very dark (but should not be burned). At about 45 minutes into the baking,  I put a piece of foil over the panettone to avoid getting it too dark.
14. Pierce the skewers all the way through the panettone and through the papers. Hang the panettone upside down over a stock pot or between two objects of equal height. I used wooden skewers and the bread was too heavy for them.  Metal skewers are better.  I also skipped this step and the panettone was still very good.
More Information:
Equipment
2 small bowls
stand mixer with paddle attachment
large bowl, for rising the dough
6 x 4-inch panettone mold
baking sheet
2 (12-inch) metal skewers
Time
Rising plus prep time – 23 hours or more
Cook time – 1 hour 30 mins
Total time – 24 hours 30 mins
  The following is what makes the panettone an Ischiatano one!
15. Make a pastry cream –   I used this recipe from this website – https://www.thekitchn.com/how-to-make-pastry-cream-168126 
16.  Either make your own candied lemon peels or buy them already made.  I made my own Julliene Candied Lemon Peel  using the following method- https://www.wikihow.com/Make-Candied-Orange-Peel
17.  Peel paper off of cooled panettone and slice through the middle making 2 halves.
18.  Spread the Pastry Cream and put halves together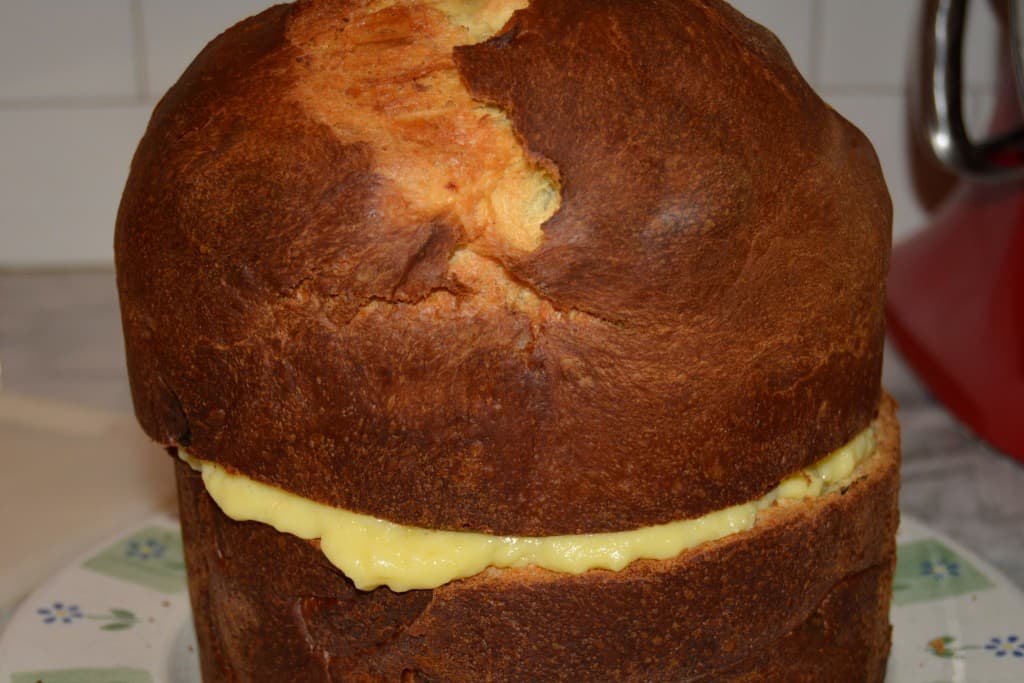 19.  Make a white chocolate ganache  http://allrecipes.com/recipe/258170/easy-white-chocolate-ganache/
20.  Spread the white chocolate ganache on filled panettone. and add Julienne candied lemon peel, chopped candied almonds, and a candied red cherry.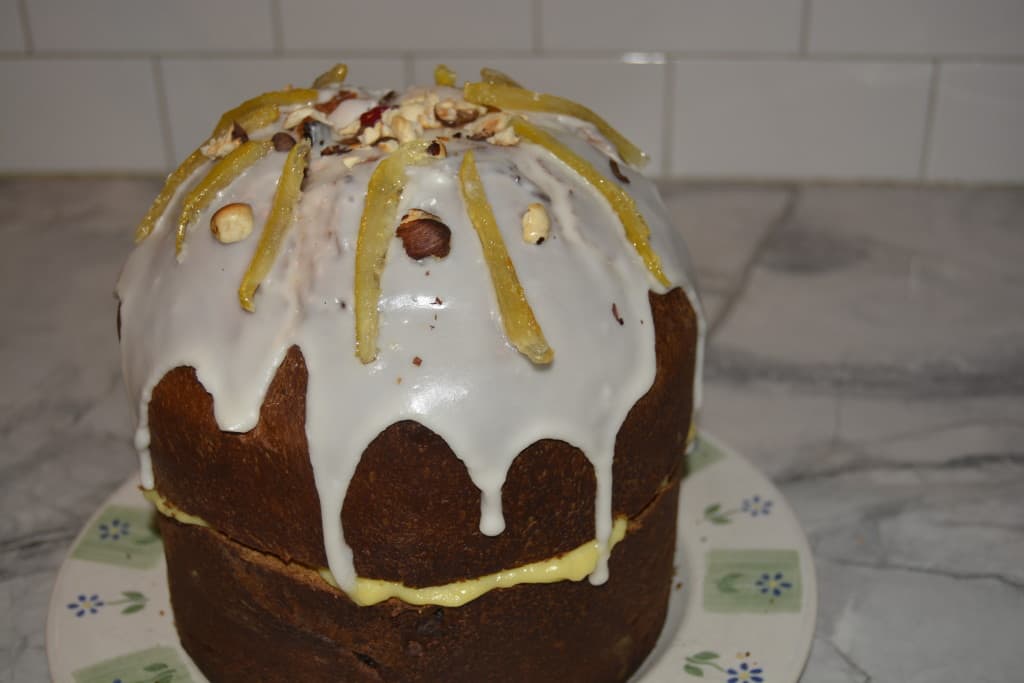 Enjoy! And pretend you are in Ischia!