Our Sauces: Featured In Hudson Valley Magazine's Holiday Gift Guide 2013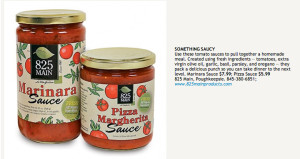 Check out this link to the November 2013 article from Hudson Valley Magazine which features 17 locally made holiday gift items. Everyone loves local and everyone loves food. Consider sending a basket of our Marinara or Pizza Sauce – or both.
Hear my interview on WSPK K-104.7's Woodman in the Morning Show

Flavor the Valley interview conducted Tuesday, August 13, 2013 at the WSPK studio. Woodman says, "This is really good stuff!… It's a really good thing."
Pictured from left to right: Bill Beale, Woodman and me, Teresa Coppola Morgan, sampling and enjoying the 825 MAIN Tomato Sauces.
You Can Find 825 Main Products at
Adams Fairacre Farms
765 Dutchess Turnpike
, Poughkeepsie, NY 12603 (845) 454-4330
1240 Route 300
, Newburgh, NY 12550
 (845) 569-0303
160 Old Post Road
, Wappinger, NY 12590
 (845) 632-9955
1560 Ulster Avenue, 
Lake Katrine, NY 12449 (845) 336-6300
Decicco's
50 Independent Way, 
Brewster NY 10509
 (845) 278-0836
Delforno's Marketplace and Catering
53 Raymond Ave, Poughkeepsie, NY 12603 (845) 471-2497
Four Maples Fish Market/New Hackensack Plaza

1820 New York 376
, Poughkeepsie, NY 12601 (845) 462-3898
Molloy Pharmacy
4170 Albany Post Road
, Hyde Park, New York 12538 (845) 229-8881
Overlook Farm Market and Country Store
5417 Rt. 9W, Newburgh, NY 12550 (845) 562-5780
Whole Foods Market 
110 Bloomingdale Road, White Plains, New York 10605 (914) 288-1300