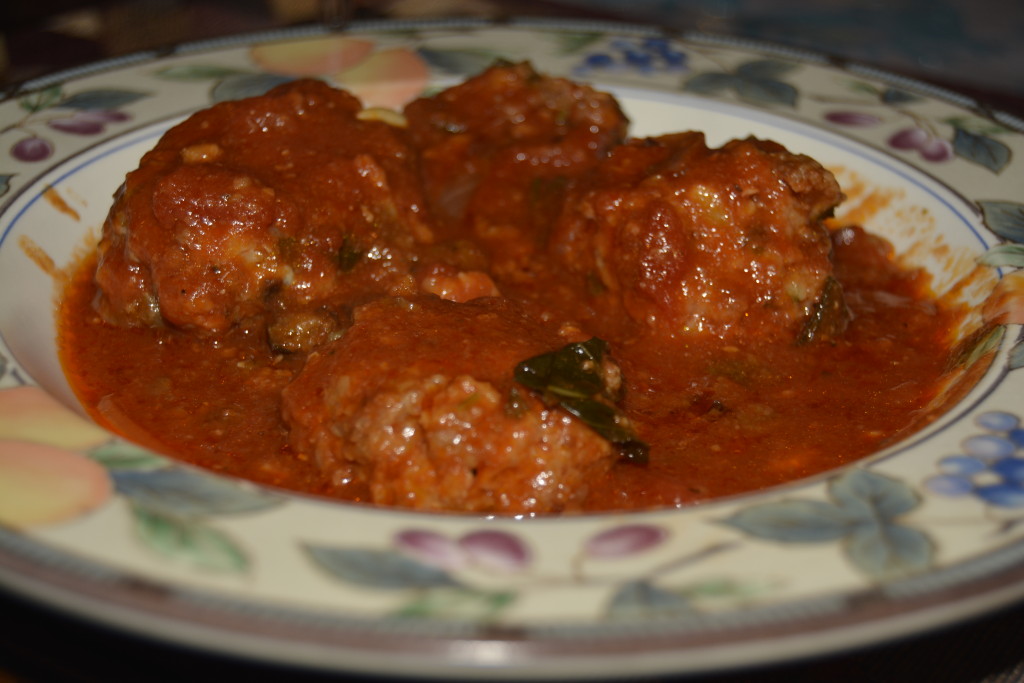 One of our most popular dishes that we served in the restaurant was "Spaghetti and Meatballs".  A big dish of spaghetti with 2 large meatballs doused with our delicious tomato sauce was a big seller.  Twice a week the chefs would be busy mixing the ground meat in a huge mixer and then rolling 500 meatballs at a time. People loved this dish! Spaghetti and meatballs is a standard Italian dish served at Italian restaurants all over the US.  Notice I said the US.  It is not a typical dish served in Italy. If you go to Italy, you won't find this dish on restaurant menus and if you do it's probably in a tourist spot to make the American tourist happy. Italy does have a version of meatballs called polpettes.  But they a very different.  They are usually eaten as a meal itself or in soups.  They are made with different meat from turkey to fish. And they are as small as marbles or as large as a golf ball.  Nothing like the baseball or softball sized American meatballs.
       Polpettes are usually found more at the family table than on a restaurant menu. My grandmother made delicious meatballs that I looked forward to on Sunday dinner with the family. Pellegrino Artusi was a Florentine silk merchant who in his retirement travelled Italy and recorded recipes. He became famous when he published the first regional cookbook, The Science of Cooking and the Art of Eating Well for the home chef in 1891. When he talked about polpettes he said "Non crediate che io abbia la pretensione d'insegnarvi a far le polpette. Questo è un piatto che tutti lo sanno fare cominciando dal ciuco," which translates, "Don't think I'm pretentious enough to teach you how to make meatballs. This is a dish that everybody can make, starting with the donkey." So needless to say, Italian version of meatballs was an incredibly easy dish to make.
       So, you may ask how did those large meatballs doused with tomato sauce over spaghetti evolve from polpettes.  It's the common story shared by all immigrants traveling to America.  They have to make do with ingredients they can find and afford.
      Four million Italians (mostly from southern Italy) immigrated to America from 1880 to 1920. Because the majority of Italians that came were from Southern Italy their cuisine made a huge mark on the Italian/American culture.  When these poor immigrants came to the US they found that their income increased so that they were able to spend more money on food.  They ended up going from eating meat once a week to eating meat every day! And meat was consumed in much larger quantities.  So, the small moist polpettes made with 50% bread and 50% meat that they enjoyed in Italy changed to larger denser meatballs made with mostly beef.
          I have to tell you as popular as the restaurant meatball was, I preferred my Nonna's meatballs.  There was a huge difference! Nonna's meatballs were soft and succulent while the restaurant meatballs were large and dense.   I think it's because Nonna made polpettes not the Italian/American meatball.  Here are a few secrets to get a truly soft succulent meatball.
Use 50% meat and 50% bread.

Use day old bread soaked in either water or milk.

Overcooking meat for too long gets dry and tough but the bread keeps it moist.

Do not over mix the meatball mixture. Overmixing make a denser meatball
      Now that I have shared the secret to making a perfect meatball the rest is easy.  And this is why Pellegrino Artusi said, "everybody can make, starting with the donkey." Not only am I going to share my Nonna's meatball recipe but I will also include a gluten free version, a vegan, and a vegetarian recipe. My Nonna's recipe includes raisins and pignoli ( very popular additions in Neapolitan cooking). You can omit them if not something that your family may like. The gluten free recipe I developed for my daughter who is on a gluten free diet.  They are also very good but not as light and airy as Nonna's.  The Gluten free meatballs are dense like the Italian/American version.  Also, some recipes may ask for bread crumbs instead of the soaked bread.  These meatballs will be denser. I also included a vegetarian meatball made with zucchini and a vegan meatball made with eggplant.  In Italy polpette are made with a variety of ingredients.  Enjoy tryin the different versions!
---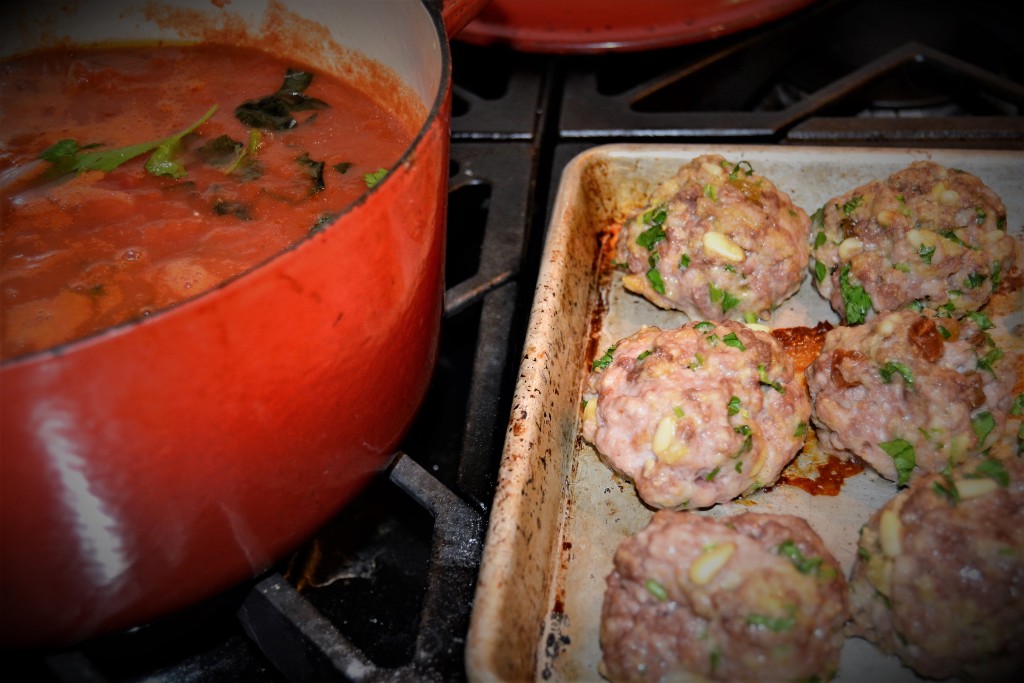 Nonna's Neapolitan Meatballs 
INGREDIENTS:
4 slices bread (2 packed cups' worth)
2 pounds ground beef or you can use a mix of pork, veal. and beef
3 cloves garlic, minced
1/4 cup finely chopped flat-leaf parsley
1/4 cup grated Parmagiano Reggiano
1/4 cup golden raisins (optional)
1/4 cup toasted pine nuts (optional)
1 1/2 teaspoons fine sea salt
15 turns white pepper
4 large eggs
1/2 cup dried bread crumbs
825 MAIN Marinara Sauce
PREPARATION:
1. Heat the oven to 325°F. Put the fresh bread in a bowl, cover it with water, and let it soak for a minute or so. Pour off the water and wring out the bread, then crumble and tear it into tiny pieces,
2. Combine the bread with all the remaining ingredients except the tomato sauce in a medium mixing bowl, adding them in the order they are listed. Add the dried bread crumbs last to adjust for wetness: the mixture should be moist wet, not sloppy wet.

3. Using a small scoop, scoop and level dropping the meatball evenly on a baking sheet. Bake for 20 to 25 minutes. The meatballs will be firm but still juicy and gently yielding when they're cooked through. (At this point, you can cool the meatballs and hold them in the refrigerator for as long as a couple of days or freeze them for the future.

4. Meanwhile, heat the 825 MAIN Marinara Sauce in a sauté pan large enough to accommodate the meatballs comfortably.

5. Place the meatballs into the pan of sauce and nudge the heat up ever so slightly. Simmer the meatballs for half an hour or so (this isn't one of those cases where longer is better) so they can soak up some sauce. Keep them there until it's time to eat.

---
 Gluten-Free Meatballs 
Ingredients:
1 ½ pounds of meatloaf mix (veal, pork, and beef chopped meat)
3 eggs
¼ cup of chopped fresh parsley
¼ cup of grated Parmigiana Reggiano cheese
1 clove of garlic grated on the microplane or minced
½ cup of almond meal
Salt and pepper to taste
1 jar of 825 MAIN Marinara Sauce
Procedure:
In a bowl mix all the ingredients. Don't over mix.
Using a small scoop. Scoop and level and place on a baking sheet fitted with parchment paper.
Bake at 350 degrees for 15-20 minutes depending on the size of the meatballs. Small scoop makes about 40 meatballs.
Meanwhile, heat the 825 MAIN Marinara Sauce in a sauté pan large enough to accommodate the meatballs comfortably.
---
Vegetarian: Ricotta & Zucchini Balls  
Ingredients:
100% Organic Extra Virgin Olive oil
4 zucchini
1/2 cup ricotta drained
2 eggs
bread crumbs
½ cup grated Parmigiano Reggiano
salt
black pepper
½ cup basil chopped
Preparation:
Wash zucchini and then grate with a grater with large holes then drain or squeeze all the water from zucchini with paper towels.
In a bowl put zucchini, ricotta, parmigiano, breadcrumbs, salt, pepper, basil and beaten eggs then mix.
In the end add breadcrumbs until the mixture is thick enough to form balls.
Scoop the zucchini mixture and either fry in plenty of extra virgin olive oil hot or bake in a 375-degree oven for 16 minutes on an oiled baking sheet.
---
Vegan Eggplant Balls 
 Ingredients:
1 medium eggplant, diced
1 garlic clove, peeled
1 shallot, minced
¼ + 1/8 teaspoon salt
Freshly ground black pepper, to taste
1-1 ½ tablespoon(s) extra virgin olive oil
¾ cup whole wheat breadcrumbs (gluten-free if desired), divided
½ teaspoon dried oregano
¼ cup of chopped fresh parsley
Procedure:
1.Preheat oven to 400°F.
2.On a large cookie sheet, combine eggplant, garlic, shallot, a pinch of salt, pepper, and olive oil. Roast for 30-40 minutes, until edges are browned. Once eggplant is removed from the oven, lower the temperature to 350°F.
3.In a large food processor (10-cup) combine roasted eggplant mixture with ½ cup of breadcrumbs, and the rest of the spices. Pulse until ingredients are just combined.
4.Scrape down the sides of the food processor and add the other ¼ cup of breadcrumbs. Continue to pulse until mixed. Avoid over-processing, when possible. When complete, the mixture should easily adhere into balls. (Note: Over-processing the eggplant mixture and breadcrumbs can make the mixture extra sticky and you may have difficulty forming balls.)
5.Form the eggplant and breadcrumb mixture into 1- or 2-inch balls, based on personal preference. Per eggplant, you should yield about 12-16 balls, depending on the size of the eggplant and balls.
6.Place balls on a large baking sheet and bake for 30 minutes, rotating halfway through.