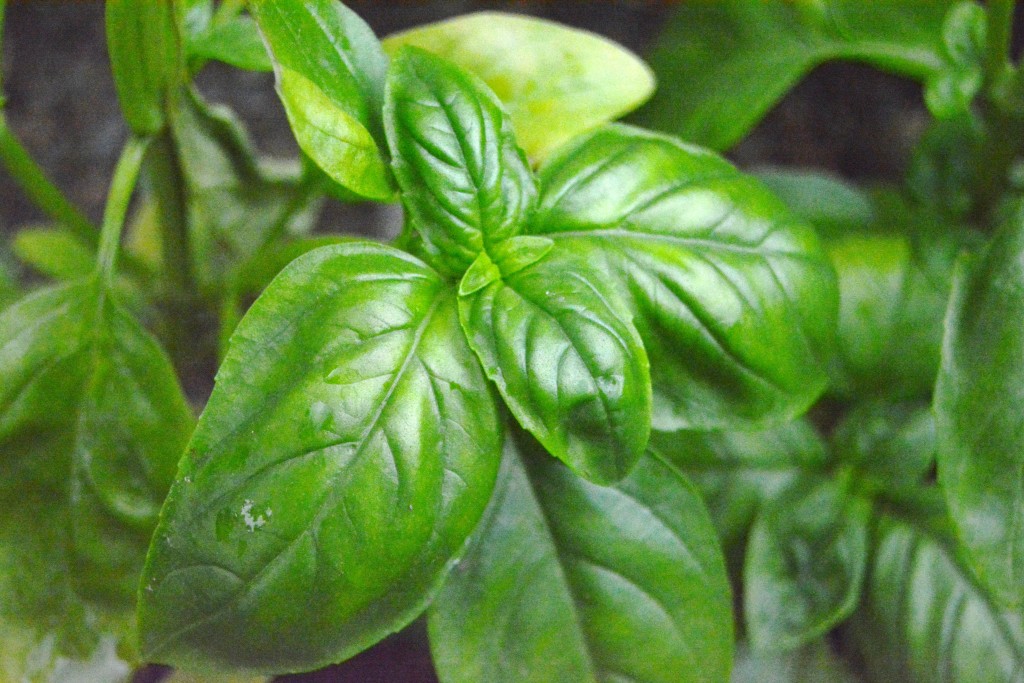 Italian cooking is a very simple cuisine. What sets it apart from other cuisines is not by technique but by knowledge of the ingredients.  Italians know that it's the authenticity of the ingredients that makes their dishes absolutely delicious!  There are not a lot of ingredients in a typical Italian dish but each of the ingredients are of the highest quality and freshness.
We bring this very essence into the making of our 825 MAIN Marinara Sauce. What sets it apart from other marinara sauces on the market is that fact that we make sure that the ingredients of the highest quality.  And one thing that we bring to marinara sauce is fresh herbs.  So I thought in this post I would like to really delve into fresh and dry herbs and Italian cooking.
Herbs are vital to Italian cooking.  Having an herb garden is essential to every Italian cook. Basil goes hand in hand with tomatoes.  They belong together.  But I have to emphasize to use fresh basil.  Dry basil has no flavor.  Parsley is also another herb that has no flavor if it's dry. And there is no excuse to not use fresh basil and fresh parsley in your cooking.  They are both readily available in your local supermarket.  As far as parsley there are 2 kinds that are available.  There is Italian parsley and the curly parsley.  The curly parsley has a bland parsley flavor and is used mostly for décor rather than flavor.  Italian parsley or the flat leaf parsley is much bolder in flavor and used for cooking. So if a recipe calls for parsley be sure to get Italian flat leafed parsley.
Storage of your fresh herbs vary if they are soft with tender stems or hard with woody stems.  Soft herbs are treated like flowers.  You cut off the stems and place in a glass of fresh water.  They can be stored in the fridge this way covered with a plastic bag.  Basil is very sensitive and never store in the ridge but rather on your countertop.  If it has a woody stem, those herbs should be wrapped in a damp paper towel and wrapped loosely in plastic wrap in the fridge.
      Don't get me wrong, Italians do use dry herbs but never, NEVER  basil or parsley! If a label just lists basil or parsley without the word fresh then its a dry tasteless herb!
     I am going to share with you three recipes that are herb intensive.  I am going to share a Grilled Shrimp Pesto with 825 MAIN Marinara to dip into on the side,  Ciabatta bread with an Italian Salsa Verde, and a Fennel Marinara Sauce using the 825 MAIN Marinara.
Grilled Pesto Shrimp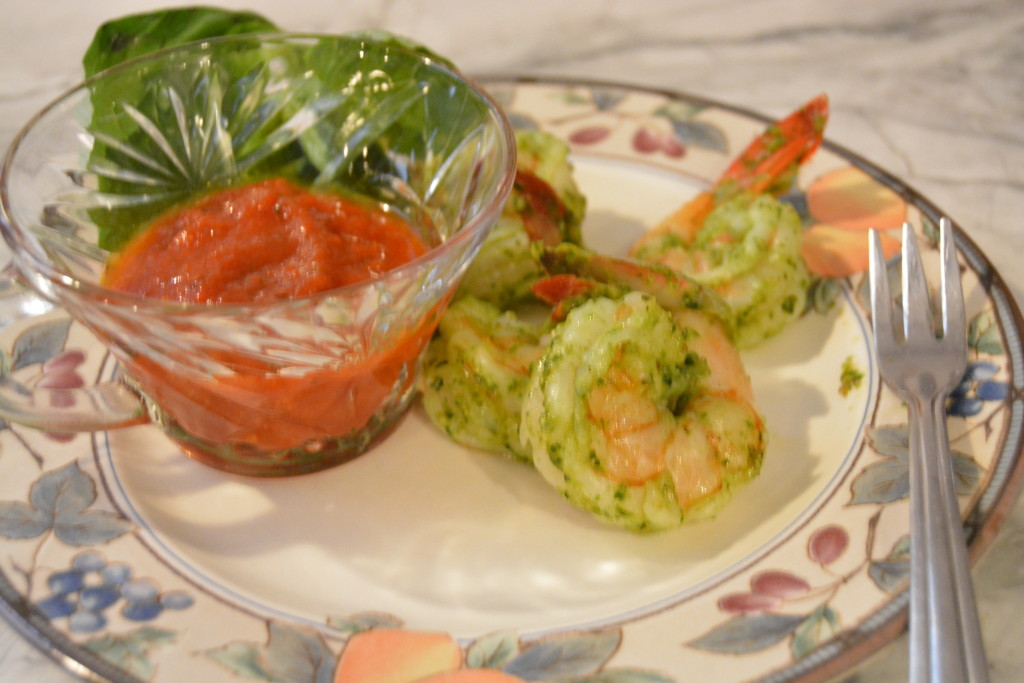 Ingredients:
Shrimp (size at your discretion), peeled (tails left on) and deveined
6 tablespoons extra virgin olive oil
1 cup basil leaves (There are numerous varieties of this spicy, aromatic herb, but sweet basil and bush basil are the most common. It is used mostly in dishes that contain tomatoes, and in salads, soups and on pizzas. Freshly chopped basil should be used whenever possible, as dried basil makes a poor substitute)
3 large garlic cloves, roughly chopped
1/4 teaspoon red pepper flakes (These devilishly hot flakes are used in traditional dishes like spaghetti aglio, olio e peperoncino and are found on almost every Italian table alongside the salt and pepper.)
1/2 teaspoon salt
1/4 cup grated Parmigiano-Reggiano
1/4 cup pignoli or walnuts
825 MAIN Marinara Sauce for dipping
Procedures:
In a food processor or blender, combine the olive oil, basil, garlic, red pepper flakes, salt, Parmigiano-Reggiano and pignoli/walnuts. Process until the mixture is well blended. Reserve two tablespoons of the pesto in a bowl large enough to hold all of the shrimp and set aside. Pour the remaining pesto over the shrimp and let sit at room temperature for about 30 minutes to marinate.
If a grill is available all the better. If not just use a cast iron pan and cook shrimp until firm to the touch but do not overcook or they will be rubbery!
Italian Salsa Verde
Ingredients:
1 garlic clove, minced
3/4 teaspoon (or more) fine sea salt
1/2 teaspoon (or more) black pepper
1/2 teaspoon dried crushed red pepper
1/2 teaspoon (packed) grated lemon peel
3 1/2 tablespoons fresh lemon juice
3/4 cup extra-virgin olive oil
3/4 cup (packed) chopped Italian parsley ( Italian parsley is the flat-leaved variety as opposed to the curly "moss" variety common in Britain and the United States. Flat-leaved parsley can usually be found at continental stores, where it is often called "continental parsley". Its flavor is far more pungent than curly parsley, and for this reason it is generally used as a flavoring in Italian dishes rather than as a simple garnish. For Italian recipes where parsley is specified, try to obtain the flat-leaved variety; other parsley can be used as a substitute, but the flavor of the finished dish will not be quite the same. Dried parsley is tasteless.)
1 tablespoon drained capers (The small, green herb buds lend a piquant sour and salty flavor to salads, dressings, sauces, vegetables and a variety of main dishes. Capers are particularly common in Sicilian cooking, although from puttanesca sauce to the Milanese sauce with anchovies, the little berries can be found the length of the boot.)
2 anchovy fillets, minced
Procedures:
Mix first 5 ingredients in small bowl.
Using back of wooden spoon, mash to paste. Whisk in lemon juice, then olive oil in thin stream until blended. Stir in parsley, capers, and anchovies. Season with more salt and pepper, if desired. DO AHEAD Can be made 6 hours ahead. Cover; chill. Bring to room temperature and re-whisk before using.
Roasted Fennel 825 MAIN Marinara Sauce
Ingredients:
2 fennel bulbs, cored and sliced ( Fennel (finocchio) Fennel is used in three ways in Italian cooking. The bulb, known as Florence fennel or finocchio, is used whole, sliced or quartered as a vegetable, and either braised or baked au gratin. It is also chopped raw in salads. Wild fennel stems (finocchiella) and the frondy leaves, which have the slightly bitter tang of aniseed, are used in cooking to flavour sauces, particularly in fish and sometimes pork dishes. They are also chopped and added to mayonnaise, eggs and cold fish dishes. Fennel seeds are a common flavoring in spiced sausages and other cooked meats, Finocchiona salame being the best known of these.)
2 large onions, peeled and sliced
1/4 cup olive oil
1/2 teaspoon red pepper flakes
1/4 teaspoon salt
1/2 teaspoon freshly ground black pepper
1 jar of 825 MAIN Marinara Sauce
1/2 cup shredded Parmesan
1 pound short pasta
Procedures:
1.Preheat the oven to 450°F. Combine the fennel, onion, garlic, oil, chili flakes, fennel seeds, salt, and pepper in a roasting dish and roast, tossing once or twice during cooking, for 15 minutes.
2.In the meantime, bring a pot of salty water to boil and cook the pasta until al dente. Reserve some pasta cooking water.
3.After 15 minutes of roasting, stir in the 825 MAIN Marinara Sauce, combining well. Roast 5 to 10 minutes more, until the fennel is tender and starting to brown.
4.Drain the pasta and toss with the roasted vegetables and Parmesan, adding some pasta cooking water if necessary until the sauce is loosened and coats the pasta. Serve immediately.