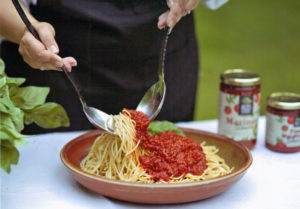 Vivi con Gusto (pronounced vee-vee cone goo-stow) in Italian means live with both pleasure and taste. In English (pronounced "guss toe") it means taste, great pleasure and enthusiasm.
Please be encouraged to have a passion for food, excitement of trying new things, and a zest for life's simple pleasures. By simply combining a few fresh quality ingredients yields a sauce so full of extraordinary flavor that you, too, will want to live Una Vita Gustosa (a tasteful life).
Pick up a jar and introduce your friends and family to a simple life full of taste. And be sure to say, Vivi con Gusto! to your guests at your dinner table at home when you serve them 825 MAIN Tomato Sauce!